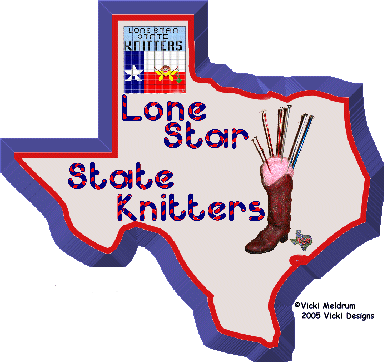 Welcome to the  Website Home of the Lone Star State Knitters.

We are a group of Texas Knitters that "meet" on a Yahoo Email List and talk about knitting and share our daily lives. We also try to make arrangements to "meet up" in person around the state as often as possible.

This site is to post contests and activities we have going and other happenings in the group.  If you live in the Lone Star State, you are welcome to join!

Dog Days of Summer Design Contest 2008 winners have been announced. Click on the Design Contest link for more.

The Austin 2008 Knit Out and Crochet will be held September 27, 2008. Click on the link for me info,  pictures and a movie clip of last year's events.

We have several regular meets. Click on the Knit Meets link to find a meet in your city. The most up to date list will be on the calendar of our our group on yahoogroups. If you are a Gal Knitter in Texas, click on the link to join Lone Star State Knitters.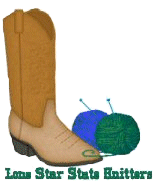 ©Vicki Meldrum

All Rights Reserved

Group AB:

Vicki Meldrum

VickiDesigns at gmail dot com